Difference Between Official Electric Car Range and Real World
The manufacturing companies' official electric car ranges are calculated through testing in a controlled environment set by WLTP rules. WLTP test is conducted in a lab, which uses real driving data collected from all around the world and considers real temperatures, gearshifts, road type, and all other sorts of actions that occur at the time of normal driving.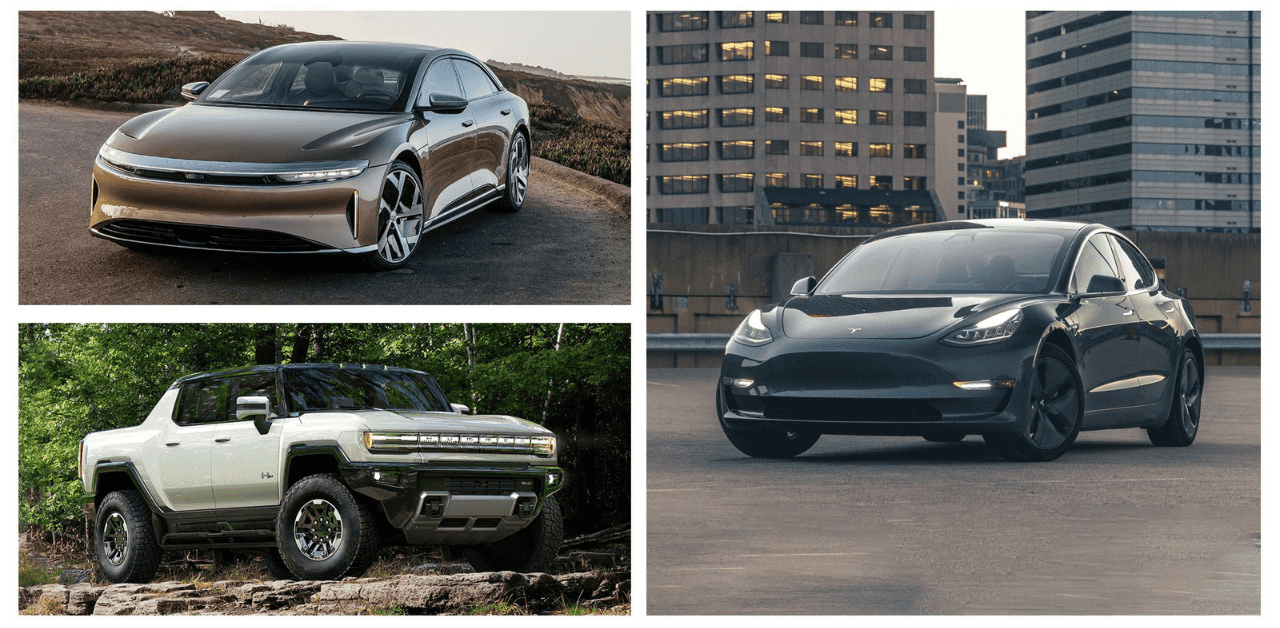 Even though WLTP is more realistic than the old NEDC measures, it doesn't valid for all possible variations. So there is a difference between WLTP and the real world. We have given an approximate real-world range to give a better indication of an average driving range that helps to know the exact range.
Do Refer
Best Longest Range Electric Vehicles
The range of electric cars varies from model to model. Most of electric cars have a significant range to comfortably match most people's daily journeys. If you want to make long journeys more frequently, then EVs are not suitable. The longest range of an EV is 520 miles. Here we are gathering 14 electric cars with their longest ranges. You can buy any of these electric cars if you are looking for the longest-range cars.
2022 Lucid Air Dream Edition R all-wheel drive: 520 miles
2022 Tesla Model S Dual-Motor AWD: 405 miles
2022 Tesla Model 3 Long Range Dual-Motor AWD: 358 miles
2022 Tesla Model X Dual-Motor AWD: 351 miles
2022 Mercedes-Benz EQS 450: 350 Miles
2022 Tesla Model Y Long Range Dual-Motor AWD: 330 miles
2022 BMW iX xDrive50: 324 miles
2022 Ford F-150 Lightning: 320 miles
2022 Rivian R1S: 316 miles
2022 Ford Mustang Mach-E RWD California Route 1: 314 miles
2022 Rivian R1T: 314 miles
2022 Kia EV6 Long Range rear-wheel drive: 310 miles
2022 Hyundai Ioniq 5 Long Range RWD: 303 miles
2022 BMW i4 eDrive40 Gran Coupe: 301 miles
FAQs on Electric Vehicle Longest Range
Which electric car has the longest range?
2022 Lucid Air: 520 Miles electric car has the longest range.
Which EV is the best value for money?
The 2023 Chevrolet Bolt EV is the best value for the money.
Is a 1000-mile EV possible?
Yes, 1000 mile Electric Vehicle is possible. Aptera motors from San Diego have designed a solar electric car that offers 1000 miles per charge.
Do any EVs have a 500-mile range?
The 2022 Lucid Air is the only electric vehicle with more than 500 miles of driving range.
Conclusion
The details provided here regarding Longest Range Electric Vehicles are helpful for you. Get to know about more electric cars information at our site.