Top 5 Most Reliable EV Cars for 2023 | Best Affordable and Reliable Electric Vehicles
Electric Cars sales are growing these days at a faster pace compared to 2021 sales of EV Cars. When it comes to affordability and reliability, there must be a great review according to the consumer. So grabbing the knowledge on electric vehicles' reliability ranking is a must to pick the right electric car for your long drives. A reliable EV Car comforts the driver to lead for so many miles and provides a smooth experience.
Are you worried about the reliability of electric vehicles and the new technology that we should rely on? We just find the metrics of reliability EVs by the third-party stats like consumer reports and J.D.Power. Based on the survey reports collected from the older-vehicle owners throughout the year, the reliability ranking out of 100 allocated for particular EV cars.
Wondering How the reliability ranking of Electric Cars can be determined? According to the serious hurdles faced by the old EV car owners like cost, failure, safety, or downtime. The reliability rating is figured out for specific EV cars, the higher score out of 100 means the most reliable electric car.
What Is The Most Reliable Electric Car?
For any type of purchase, users will look for the great reliable one to own. Hence, the reliability ranking of EV cars stands on the priority list while researching and buying the most reliable electric car in 2023. Looking for the most reliable EV Car model, price, specifications, and more? This guide acts as a final destination for your research.
Here, we have discussed the top most reliable electric car along with the other four best EV cars with the highest reliability ranking. Let's dive in to witness the fab five most reliable EV SUV Cars.
5 Top Most Reliable Electric Vehicles of 2023 According To Consumer Reports
The list of top 5 reliable EV cars ranked based on the consumer reports for 2023 is curated here with better & useful information about the electric vehicle.
Kia Niro Electric Vehicle
Ford Mustang Mach-E
Chevrolet Bolt EV
Nissan Leaf
Tesla Model 3
Kia Niro Electric Vehicle
The most reliable electric car is the Kia Niro EV which comes in the range of 293 miles at a cost of $39,990. You can even get it at a low price by applying for the federal tax credit. As per the J.D Power report, Kia Niro electric vehicle model is the highest ranking in reliability and overall vehicle dependability.
But according to consumer reports, the expectation for Kia Niro EV is even more reliable than the average new electric car. The reliability rating of the Kia Niro EV is 94.6% and is most problematic with the electrical system inside the motor.
Ford Mustang Mach-E
One more reliable EV is Ford Mustang Mach-E. It is an all-electric compact SUV type that holds great features like a good range of 312 miles, is affordable at cost ie., $43,895, eligible for tax credits and incentives. Ford Mustang Mach-e's reliability is high than the average car as per the consumer reports as it gives you the feel of a sports EV car with advanced specification and technology.
Chevrolet Bolt EV
Chevrolet Bolt EV is down their price by $4,000-5,000 compared to last year's model. A new model of the Chevrolet bolt electric car enhanced its interior and infotainment system that travels 259 miles on a fully charged battery. Due to these new technologies and changes, it holds great reliability. However, this bolt model's reliability rank can be better as per the consumer reports.
Nissan Leaf
Nissan Leaf S EV is also a reliable yet affordable electric car starting at $27,800 and eligible for federal tax credits too. You can drive 149 miles of range with a battery of 40kwh. It is also a most reliable EV car than the average new car according to consumer reports because of its performance, versatile car for drivers that don't require a major range.
Tesla Model 3
Tesla Model 3 electric vehicle is famous for its range and the all-wheel long-range model getting a 507 km full-charge range. The price of this model is $55,990 and it is the best EV to drive. Depending on its three earlier model years, it has an average reliability rating according to consumer reports. The problems of tesla model 3 are minor like electrical gremlins with the motor along with other electrical systems.
Problem Rate of Electric Cars vs. ICEs by 2019, 2020, and 2021
The following image shows you what are the top problem areas faced by EVs and ICEs in the model years 2019-2021 and it was outlined as per the consumer reports: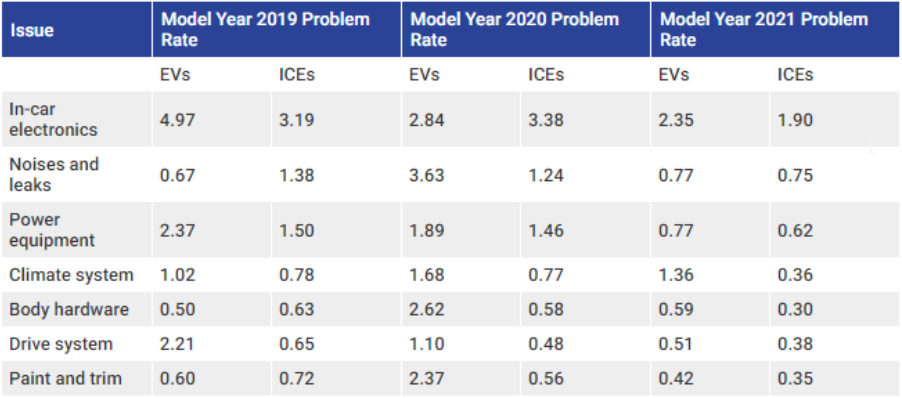 FAQs on Most Reliable EV SUV Cars 2022-2023
Are EV Cars Reliable?
No, EV cars are less reliable because of the newer technology in the automotive industry. Often electric vehicles are praised for their lower maintenance and less expensive in terms of fuel. You can save more money if you drive more via electric cars.
What is the cheapest and most reliable electric car?
Nissan LEAF S is the most affordable and most reliable electric car option that comes with an MSRP of $27,400 after qualifying for the federal tax credit, you can hold the top reliability ranked cheapest Nissan leaf s EV at $19,900.
What are the most reliable car models for 2023?
Here comes the list of the top 7 2023 most reliable EV cars that save money without keeping on additional expenses.
2023 Toyota Corolla Hybrid
2023 Lexus GX
2023 Mini Cooper
2023 Lincoln Corsair
2023 Toyota Corolla
2023 Subaru Crosstrek
2023 BMW 3 Series
What is the least reliable electric car?
Tesla is the least reliable electric car among other brands due to its new technologies.
Name the best 5 reliable EV Cars of 2022?
Some of the most reliable electric cars in 2022 are listed here:
Nissan Leaf
Chevrolet Bolt EV
Ford F-150 Lightning
BMW 330e
Ford F-150 Lightning